El próximo 28 de agosto se celebrará el 50 aniversario de un momento histórico, guardado en nuestra memoria colectiva. Hace 50 años, en las calles de Washington se congregaron cientos de miles de ciudadanos reclamando justicia e igualdad de derechos, después de muchos años de manifestaciones y reivindicaciones por el fin de la segregación racial. Como también hicieron Rosa Parks, Roy Wilkins, Malcolm X, Daisy Bates o A. Philip Randolph…, Martin Luther King participó e impulsó durante años movimientos en los que canalizar las acciones reivindicativas de manera pacífica.
Ese 28 de agosto, en el Lincoln Memorial −monumento al presidente que firmó la Proclamación de Emancipación y que derogó la esclavitud formalmente−, y ante más de 250.000 personas, Martin Luther King pronunció un discurso que cambió la historia; un discurso que no ha perdido su poder inspirador y su fuerza movilizadora. Conmemorar ese momento, comprendiendo el contexto y analizando su impacto, es lo que pretendemos hacer con un proyecto con diferentes vertientes y con una motivación: acercar el I have a dream al nosotros.
Durante estas semanas hemos trabajado en el impulso de dos iniciativas que han sido posibles gracias a todo el equipo (Xavier, Ricard, Ángela, Estrella, Cristina, David, Belén, Chus y Jaume) al que se han sumado de manera especial para este proyecto: Eduard Güell y Edu Martín-Borregón (que ha llevado a cabo las visualizaciones de la página web).

Una página web conmemorativa
Mahalia Jackson, poco antes de que Luther King se dirigiera a los asistentes, le dijo al reverendo de Atlanta: «Tell them about the dream, Martin!». Cincuenta años más tarde, el portal web que presentamos pretende contribuir precisamente a la demanda explicitada por la gran diva del gospel a MLK: explicar y difundir qué supuso 'el sueño' y por qué sigue vivo y sigue siendo necesario hoy en día. En la página web analizamos el contexto que rodeó la March on Washington y los movimientos por los derechos civiles; presentamos la biografía de Martin Luther King, contextualizando las influencias que impactaron en su figura y trayectoria; se puede leer el discurso íntegro; y conocer el impacto que tuvieron los distintos movimientos con visualizaciones que hemos realizado específicamente para la página web, que nos ofrecen una visión de cómo ha ido fluctuando la incorporación de ciudadanos de las comunidades negra y latina en puestos de responsabilidad pública, por ejemplo, además de otros recursos (fotografías, canciones significativas, enlaces de interés…).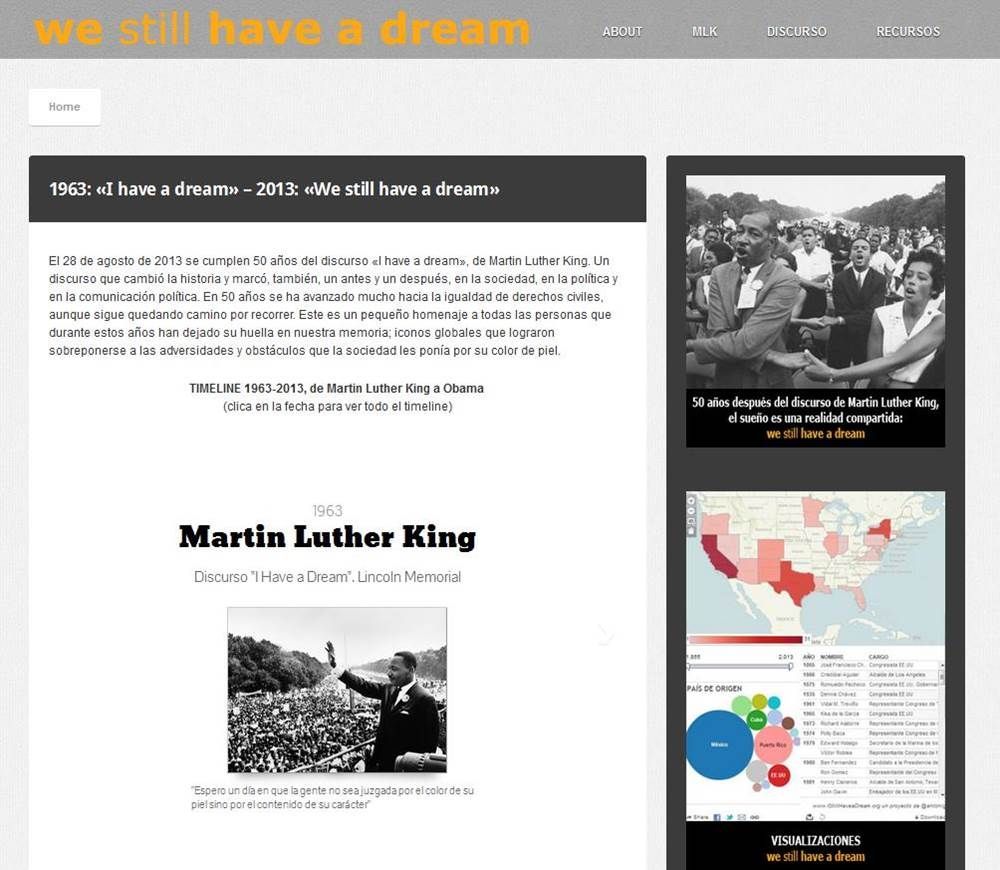 Un ebook colaborativo
Además de la página web, presentamos −coincidiendo con la fecha del 50 aniversario−, un libro electrónico gratuito donde los autores, personalidades y expertos en distintos ámbitos, han participado de manera desinteresada para aportar sus visiones sobre el discurso, su impacto, lo que supuso la lucha por las libertades civiles, la figura de Martin Luther King, etc. etc. Entre ellos: Federico Mayor Zaragoza, Juan María Hernández-Puértolas, Gumersindo Lafuente, Fran Carrillo, Rafael Vilasanjuan, Carlos Páez, Roberto Trad, Francesc Pujol, Yago de Marta, Xavier Peytibi, Ángela Paloma Martín y Antoni Gutiérrez-Rubí (coordinador del ebook).
A todos ellos: ¡Gracias! por su generosidad y entusiasmo ante la propuesta.
Tanto la página web como el ebook son herramientas para difundir y concienciar sobre lo que supuso la figura de Martin Luther King; y, también, para constatar que, 50 años después, su mensaje nos sigue despertando las mismas emociones que sintieron los que estuvieron ese 28 de agosto de 1963 en Washington. Todavía queda mucho camino por recorrer… aún tenemos un sueño.
Sigue las iniciativas en Twitter con el hashtag #MLK50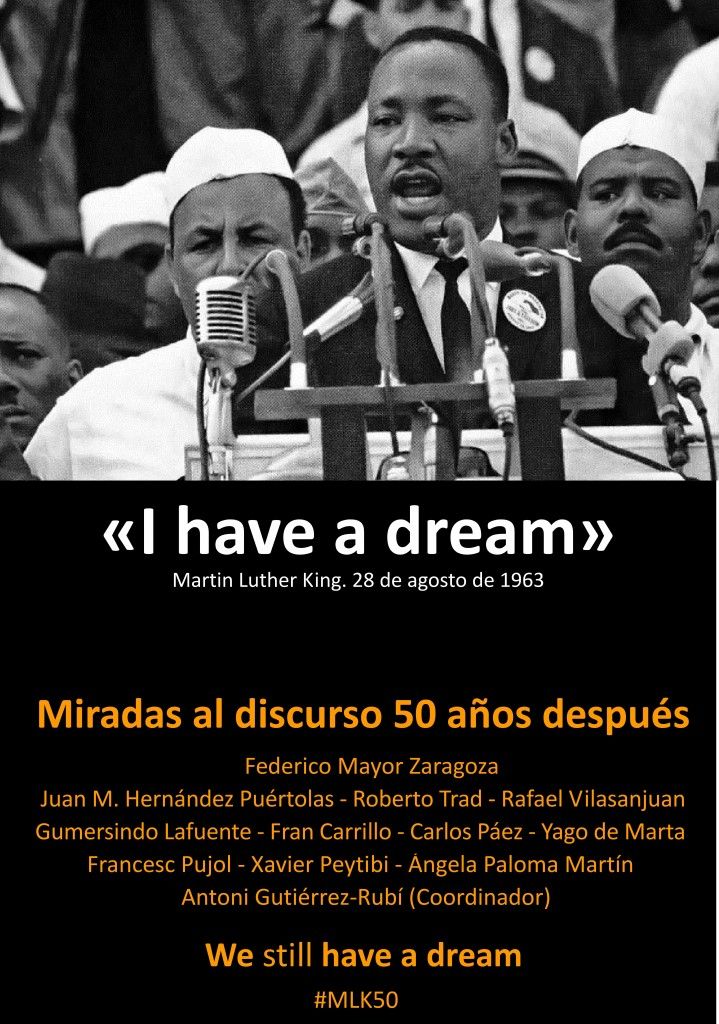 Referencias y enlaces asociados:
– 5 estrellas (Juan Manuel Zafra. Vozpópuli, 7.08.2013)
– "We still have a dream", un proyecto digital para recuperar el célebre discurso de Martin Luther King (Bárbara Yuste. CuartoPoder.es,12.08.2013)
Otros enlaces de interés:
– Especial JFK 50 años: Kennedy, marca política (Raquel Quílez. El Mundo, Noviembre 2013)
– The making of Martin Luther King's speeches (The Economist, 28.03.2018)
– Mahalia Jackson, and King's Improvisation (Drew Hansen. The New York Times, 27.08.2013)