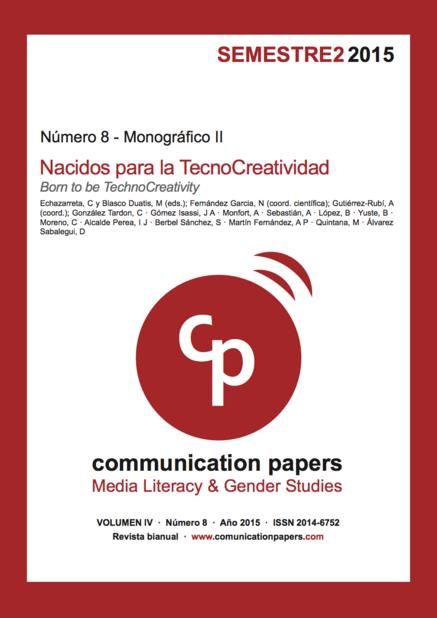 Ya está disponible la el número 8 del Volumen IV (Monográfico II) titulado "Nacidos para la Tecnocreatividad» de Communication Papers, una revista científica de investigación, iniciativa del grupo ARPA de la Universidad de Girona que está integrada en la PlatCom (Twitter: @revicompapers #technocreativity). He tenido el placer de que, en este segundo número, coordinar este Monográfico  que ha contado con estos autores y temas:
– Editorial: Carmen Echazarreta Soler
– Presentación: Antoni Gutiérrez-Rubí
ARTÍCULOS
– Gamificated Corporate Communication at University. Gamification in Social Networks, Experiences, Opportunities and Disadvantages (Carlos González Tardon, @carlosgtardon)
– La Sociedad 2.0: De la democratización de los medios de comunicación a la socialización de la producción (José Alberto Gómez Isassi)
ENSAYOS
– Corporate Identitity in the Brand Co-Creation Era (Abel Monfort, Ana Sebastián, Belén López, @abelmonfort)
– El nuevo ecosistema mediático digital alternativo a los medios tradicionales (Bárbara Yuste, @byuste)
ARTÍCULOS DE DIVULGACIÓN
– Co crear con el digital en un mundo en mutación (Carlos Moreno, @CarlosMorenoFr)
– Infografía: ¿Dónde está el conocimiento que se perdió con la información? (Ignasi Alcalde, @ignasialcalde)
RESEÑAS:
– ¿Por qué hay tan pocas científicas y tecnólogas? (Sara Berbel, @saraberbels)
– Rompiendo con los esquemas de la transparencia (Ángela Paloma Martín Fernández, @anpamar)
– De los recursos humanos a la gestión de personas: una nueva visión sobre el talento en la era digital (Mónica Quintana, @moquintana)
– Los medios después de internet. Una hoja de ruta del periodismo digital (David Álvarez, @dalvarez37)
Accede y descarga el texto en este enlace.