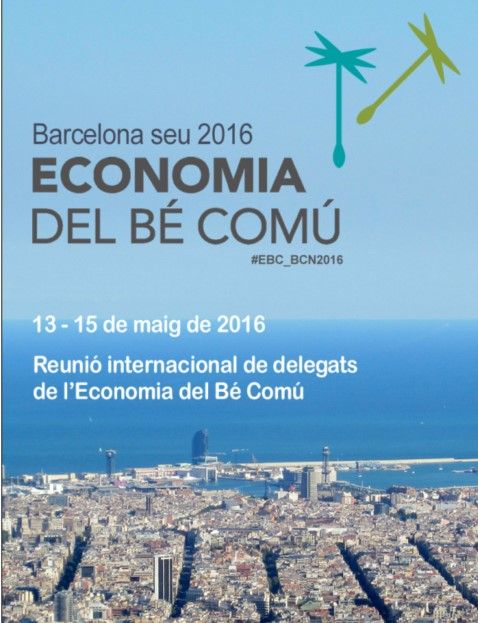 Del 13 al 15 de maig de 2016, Barcelona serà la seu de la Reunió internacional de delegats de l'Economia del Bé Comú.
L'acte de benvinguda tindrà lloc el dia 13 de maig a les 19h, a l'Aula Magna de la Universitat de Barcelona. Edifici Històric.
La benvinguda institucional serà a càrrec de:
Mgfc. Sr. Dídac Ramírez. Rector de la Universitat de Barcelona; Il·lm Sr. Gerardo Pisarello. Primer Tinent d'Alcaldia de l'Ajuntament de Barcelona de Treball, Economia i Planificació Estratègica; Sr. Josep Vidal i Fàbrega. Director general d'Economia Social, el Tercer Sector, les Cooperatives i l'Autoempresa del Departament de Treball, Afers Socials i Famílies, de la Generalitat de Catalunya; Sr. Christial Ferber. Impulsor del moviment de l'Economia del Bé Comú.
A continuació, a les 19:630h, hi haurà una taula rodona amb:
– Francisco Álvarez. Director General d'Economia, Emprenedoria i Cooperativisme. Generalitat Valenciana.
– Anna Mercadé. Directora de l'Observatori Dona, Empresa i Economia. Cambra de Comerç de Barcelona.
– Marcos Eguiguren. Executive Director of Global Alliance for Banking on Values.
– Cecilia Tham. Directora Master/Mind de MOB Makers of Barcelona, comunitat creativa col·laborativa.
– Christian Kozina. Coordinador de la Reunió Internacional EBC 2016.
A les 20:30h serà la cloenda amb:
– Josean Lavado. President
Associació EBC Catalunya
.
– Mª Pilar Rueda Requena. Grupo Impulsor Asociación Federal EBC.L'acte finalitzarà amb l'actuació del grup musical Ars Tunae:
Música per a l'esperança
.
Presentació i conducció de l'acte: Ana de Andrés. Economista i Consultora de Desenvolupament Organitzacional.
Be the Change
.Per assistir-hi, cal fer la
inscripció en aquest formulari
.A Twitter:
@EBC_Catalunya
, #EBC_BCN2016
Publicat a : Zona Web