El libro La política en serie, coordinado por Julio Otero y Diana Rubio, ha sido publicado tras completar una campaña de crowdfunding. Mecenas, colaboradores y toda una comunidad de incondicionales dieron su apoyo a este proyecto para que ahora el lector/a pueda disfrutarlo.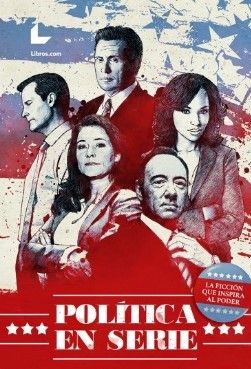 Política en serie
La ficción que inspira al poder
Julio Otero y Diana Rubio (Coordinadores)
Varios Autores
Comprar en: Libros.com https://libros.com/comprar/politica-en-serie/ 
Este es el índice de la obra, cuya portada es de Óscar Giménez:
Introducción, por Julio Otero y Diana Rubio.
Episodio 1: «De asesores a guionistas. Del war room a la pantalla», por Toni Aira.
Episodio 2: «¿Asesores de ficción?», por Juan Carlos Calderón.
Episodio 3: «Lo personal es político», por Imma Aguilar y Begoña Gozalbes
Episodio 4: «La política hecha por mujeres», por María Vázquez Lorca.
Episodio 5: «El Ayuntamiento en la pequeña pantalla», por Julio Otero.
Episodio 6: «Eventos políticos en las ficciones televisivas», por Diana Rubio.
Episodio 7: «Los pactos en las series», por Ignacio Martín Granados.
Episodio 8: «El lobby en la pequeña pantalla», por Fernando Cuñado.
Episodio 9: «La retórica religiosa y su representación televisiva», por Xavier Peytibi y Santiago Castelo.
Episodio 10: «New Media y política: teoría, práctica y técnica», por Eli Gallardo.
Conclusiones, por Julio Otero y Diana Rubio.
Las series que se referencian son: El ala oeste de la Casa Blanca, House of Cards, Borgen, The Newsroom, Scandal, The Good Wife. Veep, K-Street, Ray Donovan, Señora Presidenta (Commander-in-Chief), Secret State, Boss, The thick of it, Parks and Recreations, Tyrant, Los Kennedy, Homeland, Castle, 24, Political Animals, Madam Secretary, Mujeres desesperadas, Asuntos de Estado, The Wire, Show me a hero, 1992, Crematorio, Gitana, Isabel, Boardwalk Empire, Marseille, Mar de plástico, Spin City y Yes Minister. 
Publicado en: Zona Libros