The Graduate School of Political Management (GSPM) y The George Washington University impulsan el Seminario de Estrategias en Campañas Electorales 2019: «Diseñando en Tiempos Modernos», donde se analizarán las estrategias y tácticas que se están utilizando hoy en día en elecciones locales, regionales y presidenciales, como así también se tratarán las últimas tecnologías que han ayudado eficientemente a lograr el triunfo.
GSPM reunirá a numerosos académicos y consultores, entre los que tengo el placer de contarme. En mi caso, mi intervención tendrá lugar el lunes, 11 de marzo, y hablaré sobre:
La irrupción de las redes sociales en la comunicación política  y la conformación de los partidos políticos
Las redes sociales se han convertido en el terreno más propicio para la comunicación o la interacción políticas, y en este contexto, WhatsApp, concretamente, es terreno fértil para la propaganda electoral, un canal ideal para alimentar día a día, gota a gota, las autoconvicciones y los prejuicios de la gente. En este contexto, nos preguntamos ¿los actuales modelos de partido pueden ser organizaciones eficientes en la sociedad de hoy? Entendiendo por eficiencia la capacidad de interpretar los problemas de fondo, ofrecer soluciones para la mayoría, liderar las ideas de cambio, seleccionar a los mejores representantes y competir electoralmente.
Las ponencias (ver programa completo) tendrán lugar en el Campus Universitario de Washington D. C.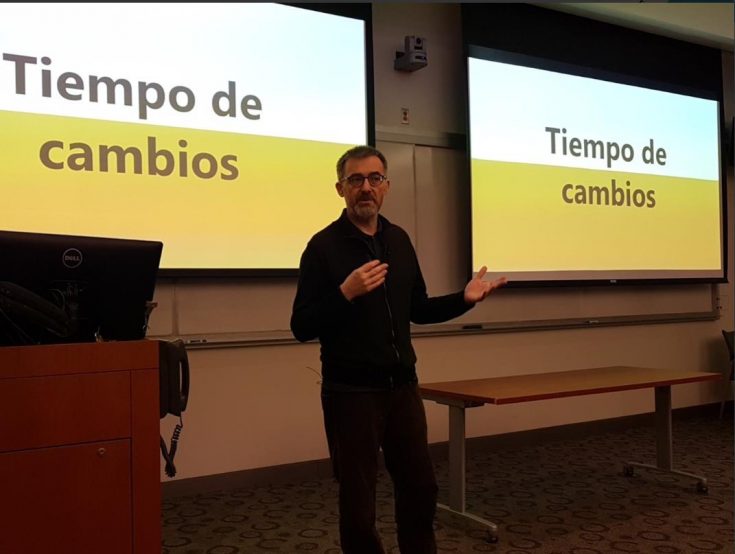 Comparto el documento PPT que acompañó mi intervención: