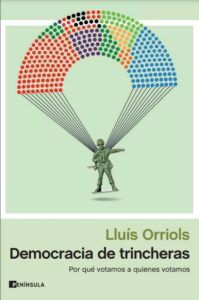 Democracia de trincheras
Por qué votamos a quienes votamos

Autores: Lluís Orriols (@LluisOrriols)
Editorial: Ediciones Península (2023)
Colección: Atalaya
Comprar: Planeta de libros; Casa del Libro; FNAC; entre otros.
Sobre el autor
Lluís Orriols es doctor en ciencia política por la Universidad de Oxford (Nuffield College). Actualmente, profesor en la Universidad Carlos III de Madrid.Sus campos de interés son: opinión pública, comportamiento político y electoral. Sus investigaciones se han publicado en revistas académicas como European Union Politics, Journal of Elections, Public Opinion & Parties, Electoral Studies y European Journal of Political Research. Escribe de forma habitual en El País y en el blog «Piedras de papel» en eldiario.es.
Sobre la obra
¿Votamos por lealtad a un partido o decidimos qué políticas nos convienen más? ¿La política es cada vez más tribal o siempre ha sido así? ¿Nos decantamos por el candidato que más nos gusta o votamos en contra del que detestamos?
El politólogo Lluís Orriols nos muestra una visión alternativa de cómo piensan y actúan realmente los ciudadanos en política y nos muestra una democracia que se asemeja más a una guerra de trincheras que a un supermercado: los votantes no son consumidores que eligen en cada
momento el mejor producto, sino que conciben la política en gran parte como una guerra de bandos, de amigos contra enemigos, de los míos contra los tuyos.
Democracia de trincheras aborda los distintos fenómenos políticos desde la perspectiva de la psicología de los ciudadanos —cómo se informan, cómo construyen la realidad política y cómo toman decisiones— y da las claves  sobre el papel decisivo que tiene la identidad en nuestra democracia. Leer un fragmento.
Enlaces relacionados:
– La democracia según Belén Esteban (Lluís Orriols. infoLibre, 23.01.2023)
– Democracia de trincheras, cuando la polarización ataca a la legitimidad de las urnas (Ángel Carreño. El Independiente, 28.01.2023)
– Entrevista a Lluís Orriols en eldiario.es (4.02.2023)