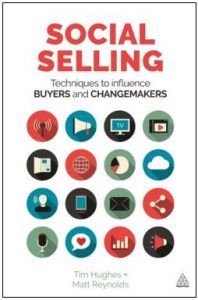 Social Selling: Techniques to Influence Buyers and Changemakers
Tim Hughes,@Timothy_Hughes y Matt Reynolds, @mbrit
Editorial: Kogan Page
Comprar en: Kogan Page, Amazon.es, Book Depository o Barnes & Noble, entre otros
Timothy Hughet es el CEO y cofundador de la consultora global Digital Ledership Associates, empresa experta en el diseño de estrategias que optimicen y refinen la visión social de otras organizaciones. El autor, que se define a sí mismo como el impulsor y pionero del concepto #socialselling, es considerado uno de los mejores profesionales en clave de ventas sociales.
Matt Reynolds es el principal consultor y fundador de Red Piranha Labs, una compañía con sede en Reino Unido creada con el deseo de prestar ayuda a distintas organizaciones y acompañarlas en el proceso de desarrollo de software.
Ambos autores han escrito Social Selling: Techniques to Influence Buyers and Changemakers, un libro cuyo foco de atención recae sobre la importancia y el poder que las redes sociales desempeñan sobre las organizaciones, los vendedores y los especialistas en marketing a la hora de generar clientes potenciales y, por ende, ingresos.
Frente a un panorama digital marcado por el constante cambio y la aparición de nuevos hábitos de consumo, los autores ofrecen «un esquema práctico» para lograr aprovechar las habilidades y técnicas necesarias para poder llevar a cabo satisfactoriamente lo que ellos denominan #socialselling.
Este libro, que marca distancias desde un inicio con el fenómeno del personal branding, introduce un nuevo concepto: el de los changemakers, también conocidos como creadores de cambios» o «agentes de cambios», líderes informales e imprescindibles en la toma de decisiones que por medio de la venta social, consiguen controlar los mercados en los que están activos y dominar así parte de la estrategia del panorama empresarial actual.
Enlaces asociados:
– Qué es el Social Selling y cómo lo utilizan los negocios para vender más
– Four elements of Social Selling