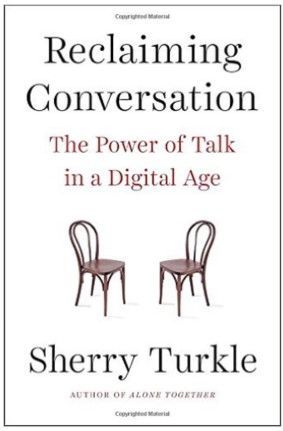 Reclaiming Conversation
The Power of Talk in a Digital Age
Sherry Turkle @STurkle
Editorial Penguin Random House, 2016
Comprar en: Amazon, Barnes & Noble, Books a Million, Indie Bound.
Sherry Turkle es profesora de Ciencias Sociales y Tecnología en el Instituto Tecnológico de Massachusetts (MIT); licenciada en psicología clínica y fundadora y directora del MIT Initiative on Technology and Self. Cuenta con 30 años de experiencia en el estudio del impacto de la tecnología en las relaciones personales y realizó una TEDTalk al respecto con el título 'Connected, but alone?'.

Es autora de cinco libros y tres colecciones editadas. Entre ellos, el más reciente es Reclaiming Conversation, The Power of Talk in a Digital Age, en el que nos muestra que, aunque vivimos en un universo tecnológico en el que siempre nos estamos comunicando, hemos sacrificado la conversación por la mera conexión.
Turkle investiga cómo las conversaciones digitales deterioran nuestras relaciones, la creatividad y la productividad, y por qué la recuperación de la conversación cara a cara puede ayudar a recuperar ese terreno perdido.
En el texto, la autora resalta una consecuencia preocupante acerca del uso que le damos a la tecnología: en el trabajo, en casa, en la política y en el amor, encontramos maneras de evitar la conversación, tentados por las posibilidades de un texto o un correo electrónico en el que no tenemos que mirar, escuchar, o revelar quiénes somos. De su investigación para este libro, le resultó sorprendente que niños y adolescentes dijeran que nunca han dado un paseo con su padre o madre sin que éstos estén sin teléfono; «literalmente, sienten que nunca tienen la plena atención de sus padres».
Enlaces asociados:
– Sherry Turkle's 'Reclaiming Conversation' (New York Times, 28.09.2015)
– 3 Questions: Sherry Turkle on "Reclaiming Conversation" (MIT News, 17.11.2015)
Publicado en: Zona Libros