Shady Characters
La vida secreta de la puntuación, símbolos y otras marcas tipográficas
Keith Houston (@OrkneyDullard)
Comprar en: @shadychars; Amazon.es, entre otros.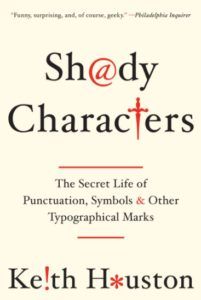 Houston es una persona apasionada por la puntuación y la tipografía, dice de sí mismo que por las mañanas escribe softwares de imágenes médicas pero que por las noches se dedica a escribir sobre la puntuación y explica que empezó a escribir sobre este tema en 2008 y que desde entonces ha terminado diversos ensayos, que cuentan sus diferentes hallazgos en la materia.
Su libro, Shady Characters, es un texto que habla acerca de la tipografía, con tal arte, que en vez de aburrido, resulta interesante. El autor cuenta cómo y porqué usamos los símbolos que hacemos hoy y, de esta forma, descubre los secretos más oscuros, más viejos e inesperados sobre la puntuación y las marcas tipográficas, muestra detalladamente el proceso de creación de las marcas seleccionadas y lo que hay detrás de la escena de su existencia, llegando incluso a develar cómo han surgido y cómo se han vuelto populares, ignoradas u olvidadas.
El libro consta de 250 páginas divididas en 11 capítulos, cada uno expone una marca tipográfica diferente y el último capítulo habla acerca de la ironía y el sarcasmo en la historia; contando diferentes relatos antiguos en los que se narra el uso de las marcas tipográficas de manera interesante.
Enlaces asociados
– Shady Characters by Keith Houston, review
– Author Keith Houston on shady characters and the secret life of punctuation
– The Book: una exploración «cubierta a cubierta» del objeto más poderoso de nuestro tiempo. El nuevo libro de Keith Houston.